(Disclosure: We are a professional site that stands behind the suggestions we offer to our readers.  The links below are affiliate links, meaning, at no additional cost to you, we will earn a commission should you make a purchase.)
An extraordinary loafer is a quintessential staple of any man's exceptional wardrobe.  Versatility is the mainstay of the value proposition of a well-constructed loafer, and their adept versatility is undeniable.  Low, laceless shoes of ease and comfort, loafers have the innate tendencies to be more catered towards casual wear, but contemporary stylists will understand the relevance that loafers have in modern wardrobes; transcending into acceptable dress shoes as well.  When thinking of the most critical shoe a man needs in his wardrobe, loafers offer a strapping choice that can be worn daily.
When picking a prodigious pair of loafers, quality is of the utmost importance.  As an exemplary gentleman's accessory it will pay dividends through the multipurpose usage you will find in both dress and casual wear.  In accordance with the value loafers offer, it is pivotal that you find a well-made loafer that truly exudes your personal style.
Entrant level: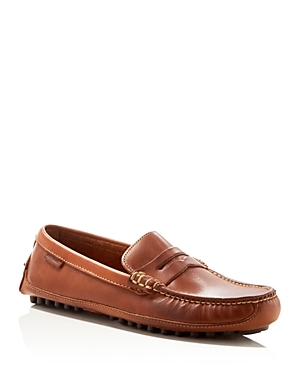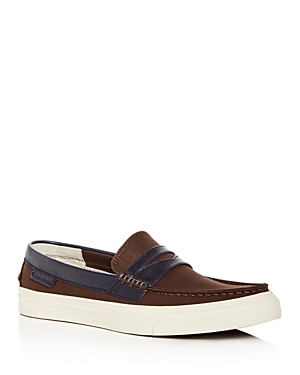 Cole Haan always come to mind as an entry level brand for gentleman.  If your budget is not great, you will find these appropriate for daily use as they are aesthetically sound and inexpensive.  Although it will not extend the lavish persona you wish to show, it will be suitable for many situations to come.  What Cole Haan lacks in quality and showmanship, they make up for in versatility and admittance into a more refined style.
Salvatore Ferragamo has been providing hand-crafted Italian luxury goods since 1927, and the level of unprecedented comfort and craftsmanship is exceptional.  The iconic Gancini-themed items are iconic enough to be recognized by a plethora of individuals, and their resounding reputation is superb.  A brand that will be easily recognized, Salvatore Ferragamo offers a wide array of idiosyncratic loafers that will definitely last for years to come.
The only loafer you will ever need.  These one-of-a-kind Corthay loafers represent the finest items of opulence that will become the focal point of any outfit.  The importance of longevity is extremely important to a gentleman, and the patinated surface of the shoes represent hand-brushed excellence, where no two pairs look quite the same.  If you are ready to wow any individual who passes by, you need to own a pair of Corthay loafers, but their versatility can be seen as limited because of the attention they command.  These masterpieces of menswear are extremely lavish and provide a great choice for anyone who is a true virtuoso of style.
Loafers are the quintessential footwear item of modern gentleman.  Although they once held a reputation catered towards casual wear, they have now transcended into acceptable dress shoes.  To ensure you live with less items of opulence, you need to choose a loafer of impeccable style and extraordinary quality, and these loafers provide great avenues to explore your personal style!